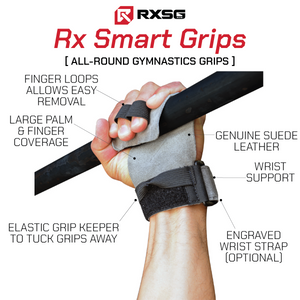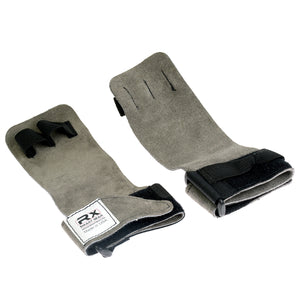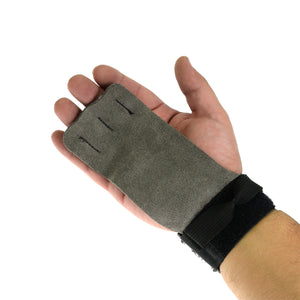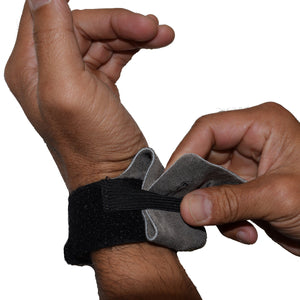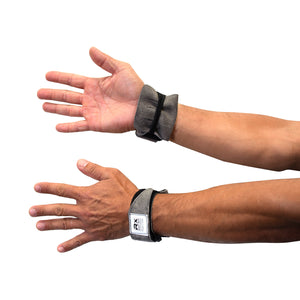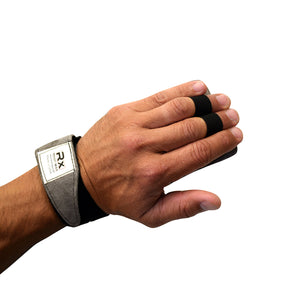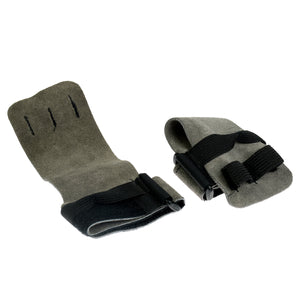 The Rx Smart Grips breathes some much-needed life into a vital piece of equipment that has remained unchanged for decades. Your performance will improve and your hands will thank you due to the following upgrades:

Soft, durable leather is not bulky and requires no break-in time.
Rough split leather texture holds chalk better.
Larger palm coverage provides greater protection.
Soft leather can be trimmed for a custom fit.
Non finger hole design provides much needed protection for fingers
Elastic finger loops keep grips perfectly in place.
One-piece leather strap construction more durable than others.
Smart Band elastic keeper tucks grips away when bare hands are needed.
The inch and a half wide wrist straps doubles as excellent wrist support for lifts
Add Grips Engraving to the wrist strap 
Rx Smart Grips are perfect to wear on or off the barbell, for pull ups, bar muscle ups, ring muscle ups, toes to bar and especially false grip muscle ups commonly seen in CrossFit, HIIT, functional training and calisthenics workouts. 
PLEASE NOTE: RX Smart Grips are not designed to be 'flapped' over the bar and support the users body weight through the wrist strap. This will lead to tearing of the grip at the wrist strap. Please follow the instructional video below on how to use. If you're looking for grips that flap over the bar, consider the Alec Smith Grips. 
When measuring hand, use a ruler, start at the base of the palm and measure to the middle finger with your hand as flat as possible.
Up to 6.75inches/17cm = SMALL
6.75-7.5″/17-19cm = MEDIUM
7.5inches/19cm & above = LARGE