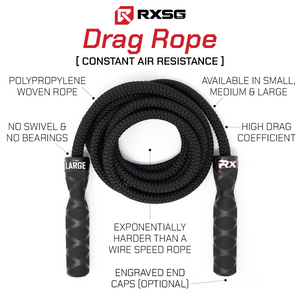 *INCLUDES FREE SHIPPING TO AUSTRALIAN CUSTOMERS*
The Rx Drag Rope brings us back to the old school days when jumping rope was really jumping rope. It has no swivel, no bearing and nothing to make life easier, just two handles and a piece of polypropylene woven rope with an extremely high drag coefficient. The energy output to rotate the Drag rope is exponential that of a wire speed rope. The result it is one of the best workouts you'll ever experience due to the constant air resistance. Drag Rope is suitable for fitness regimens including CrossFit, boxing, functional fitness, HIIT, F45 style, martial arts, globo-gyms and home workouts. 

// No swivel and no bearings.
// Polypropylene woven rope has an extremely high drag coefficient.
// Exponentially harder than a wire speed rope making workouts that much harder.
// Improve your muscular endurance making 'regular' dubs that much easier.
Available in the following sizes:
Small - Rope (Approx. 8'0") For height ranges 142-158cm/4'8"-5'2"
Medium - Rope (Approx. 8'6") For height ranges 160-173cm/5'3"-5'8"
Large - Rope (Approx. 9'0") For height ranges 175-188cm/5'9"- 6'2"
Please note; sizes are approximate and will stretch when in use. Dimensions may change depending on stretch characteristics of rope, fabric compensations and manufacture.
Buying in bulk? Buy 10-15 ropes and get 10% off.