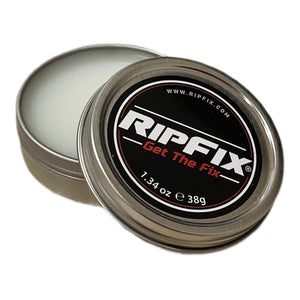 If you get hand RIPS this is the remedy for you. RipFix is the only product on the market that is made by a family of athletes specifically for hand tears. It takes the sting out of a rip instantly, so you can quickly get back to training. To use simply apply to affected area soon after RIP occurs and every night before bed until healed.
For a fresh rip, clean and cut all loose skin & disinfect the wound before applying RipFix. Leave RipFix on the wound for several hours at a time - overnight works best. RipFix® will speed up the recovery, getting you back to your training with less down time.
Weight: Standard 1.34 ounces (38g) and Travel Size 0.3 ounces (8g)
Ingredients: Petroleum Jelly, Beeswax, Camphor, Coconut Oil, Honey, and Tea Tree Oil.