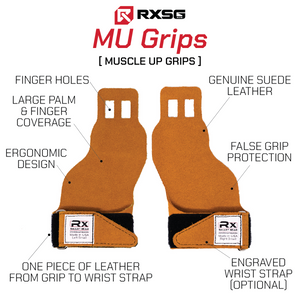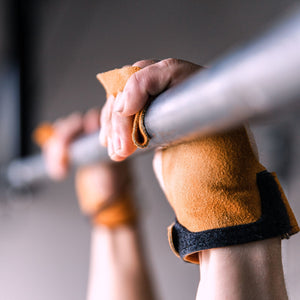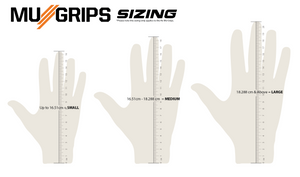 The RX MU Grip blends the old with the new to round out the Smart Grip family. By combining the original Rx Muscle Up Grips wrist protection feature with the AF Grip contouring and adding traditional finger holes we created a multi-use, multi-dimensional grip that does it all. MU Grips are perfect to wear on or off the barbell, for pull ups, bar muscle ups, ring muscle ups, toes to bar and especially false grip muscle ups commonly seen in CrossFit, HIIT, functional training and calisthenics workouts. 

Soft suede leather for comfortable feel
Durable one piece construction for top-notch protection
False Grip skin protection for strict muscle ups
Above middle knuckle position for pull up and gymnastics movements
Below middle knuckle position for barbell movements
Add Grips Engraving to the wrist strap 
*colour of natural material may vary
PLEASE NOTE: MU Grips are not designed to be 'flapped' over the bar and support the users body weight through the wrist strap. This will lead to tearing of the grip at the wrist strap. Please follow the instructional video below on how to use. If you're looking for grips that flap over the bar, consider the Alec Smith Grips. 
Up to 6.5inches/16.5cm = SMALL
6.5-7.25″/16.5-18.5cm = MEDIUM
7.25inches/18.5cm & above = LARGE