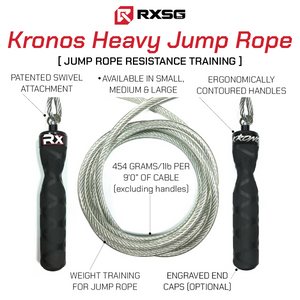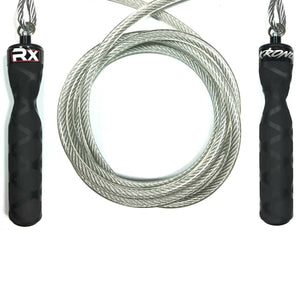 *INCLUDES FREE SHIPPING FOR AUSTRALIAN CUSTOMERS*

Kronos Heavy Jump Rope is ready to dominate with his 1 pound (454g) cable per 9ft (274cm) section.  Kronos Heavy Skipping Rope will undoubtedly push your high intensity work outs to the max with as much resistance as you can handle.

// Heavy cable weighing 454 grams per 9'0"/2.74m of cable (excluding handles)
// Available in 3 sizes
// Available in Black handles/Clear cable only
Double unders with a 1 pound cable will not only develop grip strength and muscular stamina but will also force you to develop efficient technique  and mechanics or suffer the wrath of the gods. Can you tame the Father of the Gods?  This rope comes in limited cable colors and is only available with Black Handles and Kronos logo tape.  Only sold in sizes Small 8'0", Medium 8'6" and Large 9'0".  Please refer to our sizing recommendations for the best fit. If you are between sizes, go for the shorter cable. 
*Handle wrap may vary
Sizing
8'0" - For height ranges 142-158cm/4'8"-5'2" (Small)
8'6" - For height ranges 160-173cm/5'3"-5'8" (Medium)
9'0" - For height ranges 175-188cm/5'9"- 6'2" (Large)
Kronos Heavy Jump Ropes are custom sized to each individual athlete's height. For this reason, please refer to the instructional link below on How To Size Your Rx Jump Rope and take the Rx Jump RopeQuiz.
Kronos and Zeus cables cannot be exchanged and replacement cables are not available. Due to the size this rope does not include a bag.