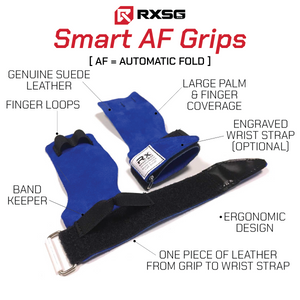 Smart AF Grips - It's not what you're thinking! We modified the original Rx Smart Grip by improving the shape and moving the finger loops to the opposite side creating an Automatic Fold (AF). The result is a superior gymnastic grip with amazing hand protection! Tested by some of the best CrossFit Games Athletes on the planet.

Smart AF Grips are perfect to wear on or off the barbell, for pull ups, bar muscle ups, ring muscle ups, toes to bar and especially false grip muscle ups commonly seen in CrossFit, HIIT, functional training and calisthenics workouts. 
When measuring hand, use a ruler, start at the base of the palm and measure to the tip of the middle finger with your hand as flat as possible.
//Add Grips Engraving to the wrist strap. 
PLEASE NOTE: Smart AF Grips are not designed to be 'flapped' over the bar and support the users body weight through the wrist strap. This will lead to tearing of the grip at the wrist strap. Please follow the instructional video below on how to use. If you're looking for grips that flap over the bar, consider the Alec Smith Grips. 
If you're right on the cusp of one of the sizes, we recommend choosing the larger size.
*Due to the nature of natural fibers used, colors and texture may vary.
Up to 6.75inches/17cm = SMALL
6.75-7.5″/17-19cm = MEDIUM
7.5inches/19cm & above = LARGE