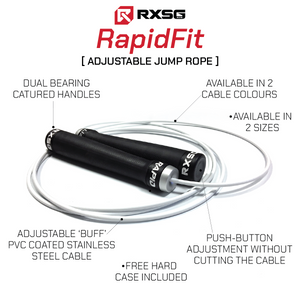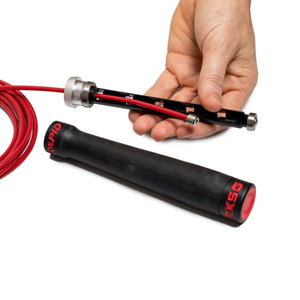 RapidFit Adjustable Jump Ropes are custom sized to each individual athlete's height. For this reason, please refer to the instructional link below on How To Size Your Rx Jump Rope and take the Rx Jump Rope Quiz.
LEARN how to size your jump rope here

The Award Winning RapidFit Adjustable Jump Rope is changing the game. Winner of the 2018 Australian Good Design Award in the Sport and Active Lifestyle category, the RapidFit solves the age-old problem of finding the correct jump rope size. At the push of a button the RapidFit can adjust to fit heights from 182cm/5 feet all the way to 183cm/6 feet tall, with standard size cable. The ergonomic dual bearing handles provide effortless spin while the PVC coated aircraft grade cable provides the perfect amount of resistance for any work out.
No guesswork, No excuses, problem Solved.
Standard cable fits users between 5 feet/152cm and 6 feet/183cm (Red or White) Cable Length is 8'4″ – 9'0″
Long cable fits users over 6 feet/183cm (Black) Cable Length is 9'0″ – 9'8″
The RapidFit comes with an EVA moulded hard case for storage.
The RapidFit skipping rope is only available with Buff 3.4 ounce cable.  
Please note; using cables on concrete or hard and abrasive surfaces is not recommended. To ensure the longevity of your cable, use only on gym flooring or matting.